ACRYLIC MOUNTED PRINT
Acrylic mounted print is a high-end product giving contrast, brilliance and unmatched depth to your photos. From a Pigment Inkjet print, your photo print is mounted on a 1/8″ thick Dibond plate, then a 3/16″ thick acrylic glass is stick on the print. The assembly is mounted on a custom-made wooden or aluminum brace.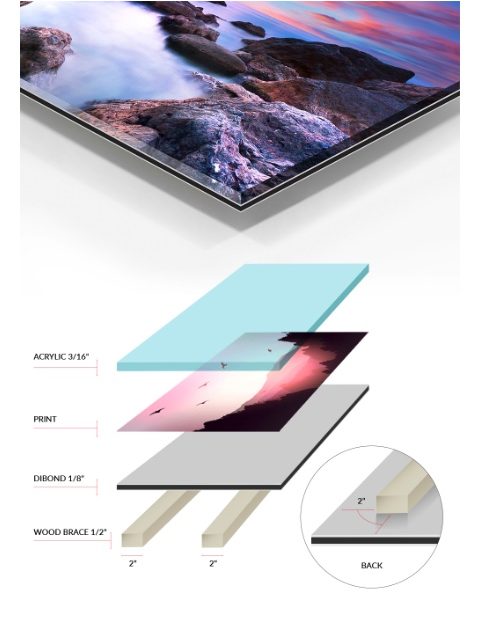 DIBOND MOUNTED PRINT
Your photo print is mounted on a dibond plate (aluminum plate) then framed in a made to measure floater frame.  Adopted by all the art galleries and major museums, the floater frame will enhance your images by giving the impression that the photo floats unattached to its frame. We offer 4 different colors: Black wood, White wood, Walnut, Maple.  On the back, a hanging system makes your piece ready to hang! All our frames are made and assembled in the US.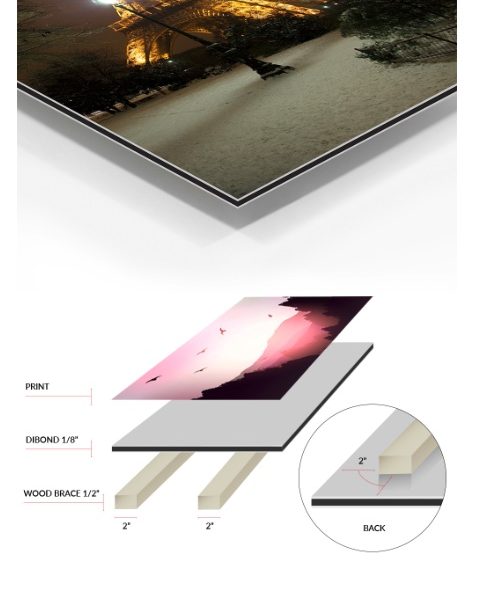 FLOAT FRAME
Your photo print is mounted on a 1/8″ thick Dibond plate. Because of its lightness and rigidity, dibond is art galleries' favorite media. It is made up of 2 thin aluminum plates hedging a black polyethylene plate for optimal strength. On the back, a made to measure brace allows hanging the print on the wall.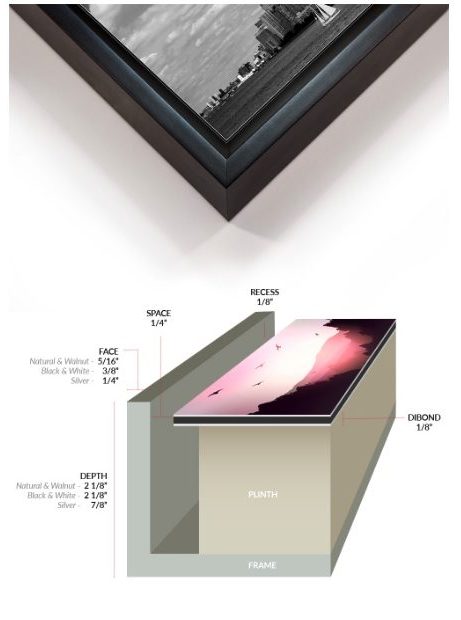 HD METAL PRINT.
HD Metal Print offers durability and stunning luminescence. Your image will have vibrant colors with the highest detail and resolution available. The process, called dye sublimation, consists in mirroring the image and printing it onto a transfer sheet using high-resolution Pigment inkjet printer. Then, with high pressure and heat, the print is steamed from the transfer sheet into the aluminum's special coating, where it is permanently sealed in.  Your images will have great detail and vivid colors with long-lasting durability. In addition to this, thanks to the 1mm thick aluminum, the prints are lightweight.  In order to hang your final piece, it comes with braces on the back to create a floater look.